"

The narrative of each student's educational journey is a story that must be told, and digital pathways can be instrumental in helping to tell that story.

"
Our Digital Badge Design program is an effort to help public and private higher education organization make informed decisions around adopting digital badging and help them approach digital credentials in a strategic and sustainable manner. Our efforts and programs are vendor agnostic focusing only upon student benefit and institutional reputation. As "always on" and "instantaneous" become the norm in business it is imperative that students have a way to communicate proficiency, and credentials on demand.
To help you design and implement digital badge programs that are sustainable and promote communication between colleges, communities and employers.
Digital Badges can represent the many credentials offered by your institution. Your program should be designed with your key objectives in mind while recognizing the needs of  your students, faculty, employers and community.
By implementing a digital badge program, students will be able to communicate and tell their story in a dynamic and innovative way that can illustrate and highlight competencies and achievements from your college.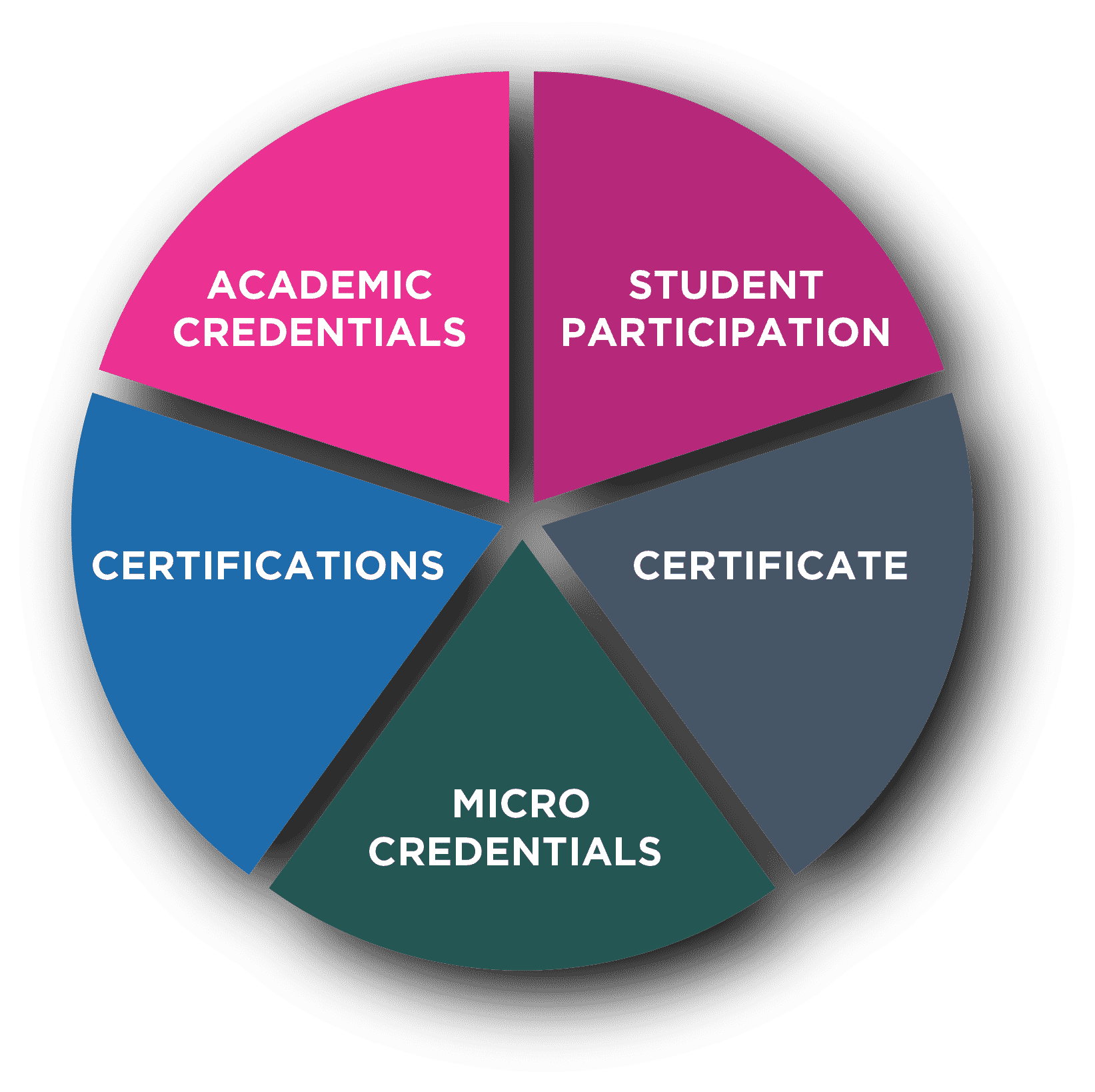 1
Represent existing academic credentials.
2
Shows participation in activities or events.
3
Vocational skill or proficiency certificate.
4
Discrete skill or proficiency that is part of a larger credential. Can be stacked to acquire academic or certificate badges.
5
Industry recognized certifications with qualifications defined by certification bodies.
Digital Badges are virtual representations of achievements, proficiencies, skills, or other activities. It is an important distinction that a badge is not the "THING", the badge represents the "THING." Therefore, the value of a badge is established by what it represents. There are many uses for badges with the major classes being identified in the graphic shown here.
Digital Badge Program Activities
CCCAOE Conference Participation Badges
CCCAOE Fall 2018 will be offering conference participation badges which will be a live demonstration of what a participation badge is and what potential value participation badges carry.
South Central Coast Regional Consortium is offering a region wide Career Strategist as a partnership with Community Colleges and local High Schools.
Case Study – Santa Barbara City College Career Skills Institute
Santa Barbara City College (SBCC) reassessed its traditional business skills program. With validated local business feedback, SBCC redesigned its entire professional development program from the ground up and also used digital badges as a catalyst to invigorate the program.
Because badges are such a new concept, SBCC worked with synED and Pearson Acclaim to fit the badge technology to the overall project. The badges offered by SBCC are branded with the college's name, giving anyone looking at them the validation that they were issued by an accredited educational institution.
The synED team was also heavily involved in marketing the Career Skills Institute (CSI) and its programs to prospective students and employers. SynED reached out to 40 companies in the Santa Barbara area to set up meetings to explain the new program and how it could benefit their employees. The rebranded CSI launched in Fall 2015. Since then, more than 1800 students have enrolled in badge programs. There are currently 76 courses offered as part of 23 badge programs with plans to continue adding courses to meet the changing needs of the modern workforce.
A continual quality improvement process has been instituted to keep the program fresh and relevant. Overall, replicability was an important objective for this effort to make the program easily implemented at other colleges in the region. The program has been well received by students and businesses alike.
Health Care Digital Badge Roundtable
Select healthcare leadership in the Santa Barbara region and special guest Das Williams, Assembly Member and Chair of the CA Assembly Higher Education Committee met at Antioch University on October 8, 2014 at a meeting convened by SynED, an educational non-profit futures group, to discuss a unique solution for access to relevant training for the healthcare workforce.
Digital Badge Review Roundtable
On May 16, 2014 a group of professionals representing various stakeholder viewpoints in workforce education gathered at Los Positas College to discuss the vision and issues relating to giving recognition for skills acquired in both tradition and non-traditional learning venues. It was held as an information sharing session on the topic of Digital Badges with attendees representing a workforce digital badge 'ecosystem'.
Recognizing Everyone As A Student For Life