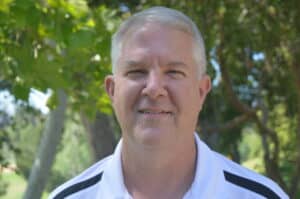 Allen Stubblefield didn't know it at the time, but cyber competitions helped fill an unmet need at Troy High School. As a magnet school for science and technology, he thought cybersecurity would be a good fit, but is as surprised as anyone that the school now hosted 60 teams this year and several CyberPatriot national championships. 
Stubblefield holds bachelor's and master's degrees in computer science but spent his first career in the U.S. Navy, where those skills were not a priority. However, his time in the Navy did allow him to become involved with the high school junior ROTC program, which showed him the power that positive role models can have on young people and planted the seed that he might want to work with students during the next phase of his career. 
"I was really impressed at how those retired sailors and Marines were making a positive impact on kids every day. I knew what I wanted to do after I retired from the Navy," Stubblefield said.  
Stubblefield retired from the Navy in 2005 and settled in Orange County. He started as an ROTC teacher and decided to give CyberPatriot a try when it started in 2010.  
His team was small, with five students, a mentor, and Stubblefield as their coach. Although he has a technology background, he sees his primary role as "chief facilitator" — or some days, "chief cat herder." He began by using cybersecurity professionals to serve as mentors and teach technical skills while he focuses on leadership, organization, and motivation. 
He kept that philosophy as the number of students in CyberPatriot grew from 5 to 25 to now more than 400 across 75 high school and middle school teams. He now looks to older students to share the teaching responsibilities. 
"When it comes to coaching, I love sitting down with a team and coming up with a plan," Stubblefield said. "I am not the best fisherman, but I can find people to teach them how to fish." 
CyberPatriot teams from Troy High School have taken top honors at CyberPatriot Nationals in 2018 and 2019. Stubblefield, who was named CyberPatriot Coach of the Year in 2016, said he measures success by seeing students personally motivated to work hard, learn new material and getting better results every year. 
He's always quick to emphasize, though, that success looks different for everyone and, though everyone has the potential to be national champions, far fewer teams will actually achieve that honor.  
"I'm trying to give them all something to continue to shoot for," Stubblefield said. "I emphasize that everyone is learning more than just cybersecurity." 
In addition to being active in CyberPatriot, Stubblefield and Troy High School hosted the 2019 California Mayors Cyber Cup in Orange County. The school's teams won first, second, and third place in the competition. Troy High School also started a four year cybersecurity academic pathway in 2016 and Stubblefield transitioned as a teach from JROTC to cybersecurity and computer science.  
"I finally get to use my college degrees," said Stubblefield. 
Stubblefield draws his own motivation from the huge demand for cybersecurity professionals in the workforce in California and across the U.S. He said this message also resonates with families, which is part of the reason why CyberPatriot grew so quickly at Troy High School. 
"Families realized that cyber is an important field that no one else was offering," Stubblefield said. "We're short half a million positions, and we need everyone who is interested to learn about cybersecurity. I know Troy is not going to fill that void, but we're doing our part."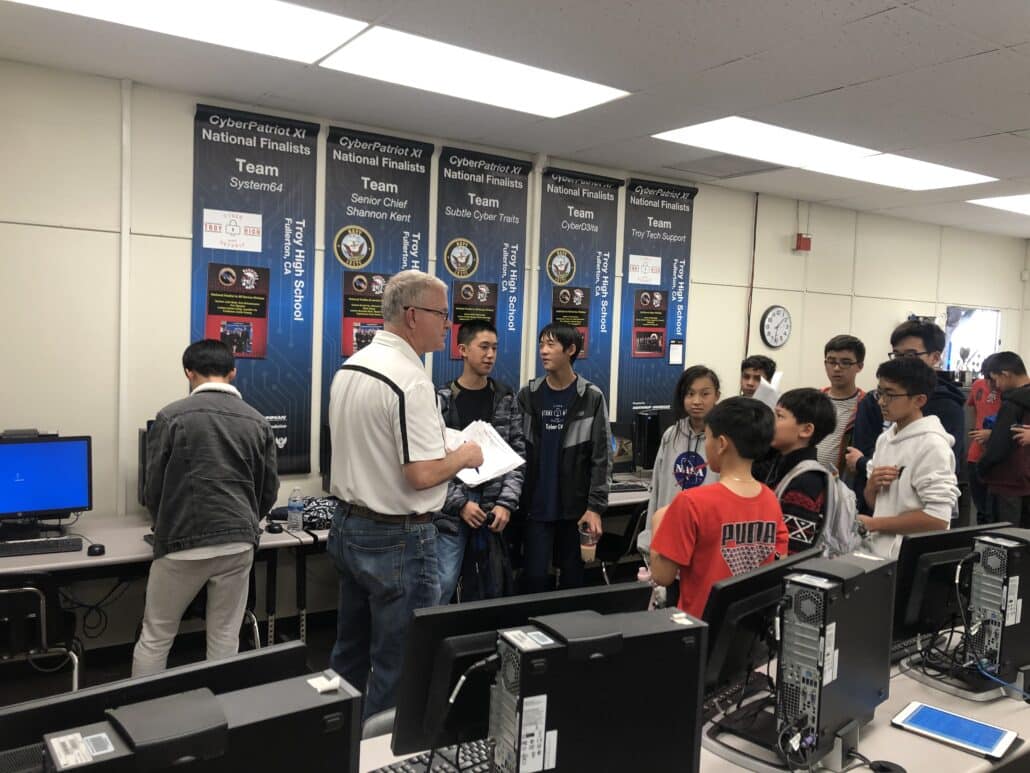 Stubblefield further capitalized on the interest among students and parents by hosting cyber camps for the past four summers. These camps gave middle school and high school students the opportunity to learn about cybersecurity in a motivating and empowering way — with the hope that the enthusiasm they picked up during camp will lead to increased participation in cyber competitions and, eventually, more diversification of the cybersecurity workforce.  
He also opened up his camps to students from any area school with the hopes of seeing more students interested in cybersecurity. 
Stubblefield also sees summer camps as a way to try to increase the number of females in the cybersecurity and STEM work forces.  
"Middle school girls are willing to try and do anything because no one has told them yet that they can't or they shouldn't," Stubblefield said. "That's the secret to getting more women involved in cybersecurity … start them early so they can gain firsthand experience and try it out in a safe environment. We have had female only rooms for the past two summers to provide these impressionable students with a safe and supportive environment to trying cybersecurity." 
Stubblefield, at the request of parents, also started an elementary cyber camp last year, based on CyberPatriot's Elementary School Cybersecurity Education Initiative. He hopes to expand that program this summer. 
Stubblefield started his career at Troy High School teaching ROTC and coaching cyber teams on the side, but because of the interest in cyber, he's now working full-time in career and technical education, teaching AP Computer Science Principles, Computer Operating Systems Security, and Cybersecurity Fundamentals. 
"In the spring of 2016, we surveyed our [CyberPatriot] students, and 85 percent of our 45 high schoolers and 25 middle schoolers said they would take classes in cybersecurity if we offered them. I had no idea that the participation level would grow to what it is now," Stubblefield said.  
Moving forward, Stubblefield's background in technology and experience in the military makes him the perfect fit to continue expanding cybersecurity education at Troy High School and beyond. He's excited to continue building on the success he's achieved and help create the next generation of cyber leaders.  
"These students are the future defenders of our digital world. They are serious about pursuing degrees in cybersecurity and joining the cyber defense workforce with the government, military, or business. They are so eager to learn new cyber information every day, and their enthusiasm is so contagious," he said.