A college degree will always be an important path to work. But it's not the only path, or even the best one.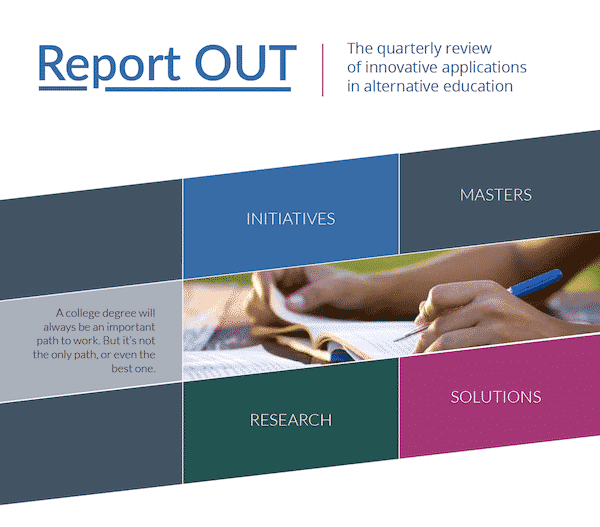 The quarterly review of innovative applications in alternative education
"To get a good job you must have a bachelor's degree." This is a common myth that needs to be
debunked. For years, Americans have been told that, with the decline in manufacturing, the blue collar job that required a high school degree or less was gone for good.
The truth is that not all good jobs for people with less than a bachelor's degree have been eliminated. Far from it. There are 30 million jobs in the U.S. that pay good wages without a B.A.: The median salary is $55,000 with an opportunity to move up the career ladder.
But it's important to understand that today's good jobs are different from those of the past. Job seekers without a B.A. in 2017 need to search beyond traditional blue-collar sectors and look to skilled-services industries. Nationally, a gain of 4 million jobs in financial services, health services, information technology and other skilled-service industries has more than offset the 2.5 million well-paying jobs lost in manufacturing since 1991.
There is a catch: To secure these roles, workers need to get some education or training beyond their high school diploma. Much of the growth in good jobs that pay without a B.A. (including in manufacturing) has benefited workers with associate degrees or some college education — 4.1 million since 1991.
01 You Can Get a Good Job Without a Bachelor's Degree
02 Digital Credentials & Digital Pathways Poised to Revolutionize Higher Education
03 Summary of Digital Badge Provider Comparison at College of the Canyons
04 Faculty Development & Digital Credentials
05 Employers Eager to Hire Try a New Policy: 'No Experience Necessary'
06 California Mayors Cyber Cup Creates Partnerships Between Government, Education, and Industry for Cybersecurity Career Pathways
07 Virtual Labs as a Service (LaaS) for California's South Central Coast Region
08 Do More in Less Time with Compression Planning©
09 GRIT The Power of Passion and Perseverance
"The narrative of each student's educational journey is a story that must be told, and digital pathways can be instrumental in helping to tell that story."