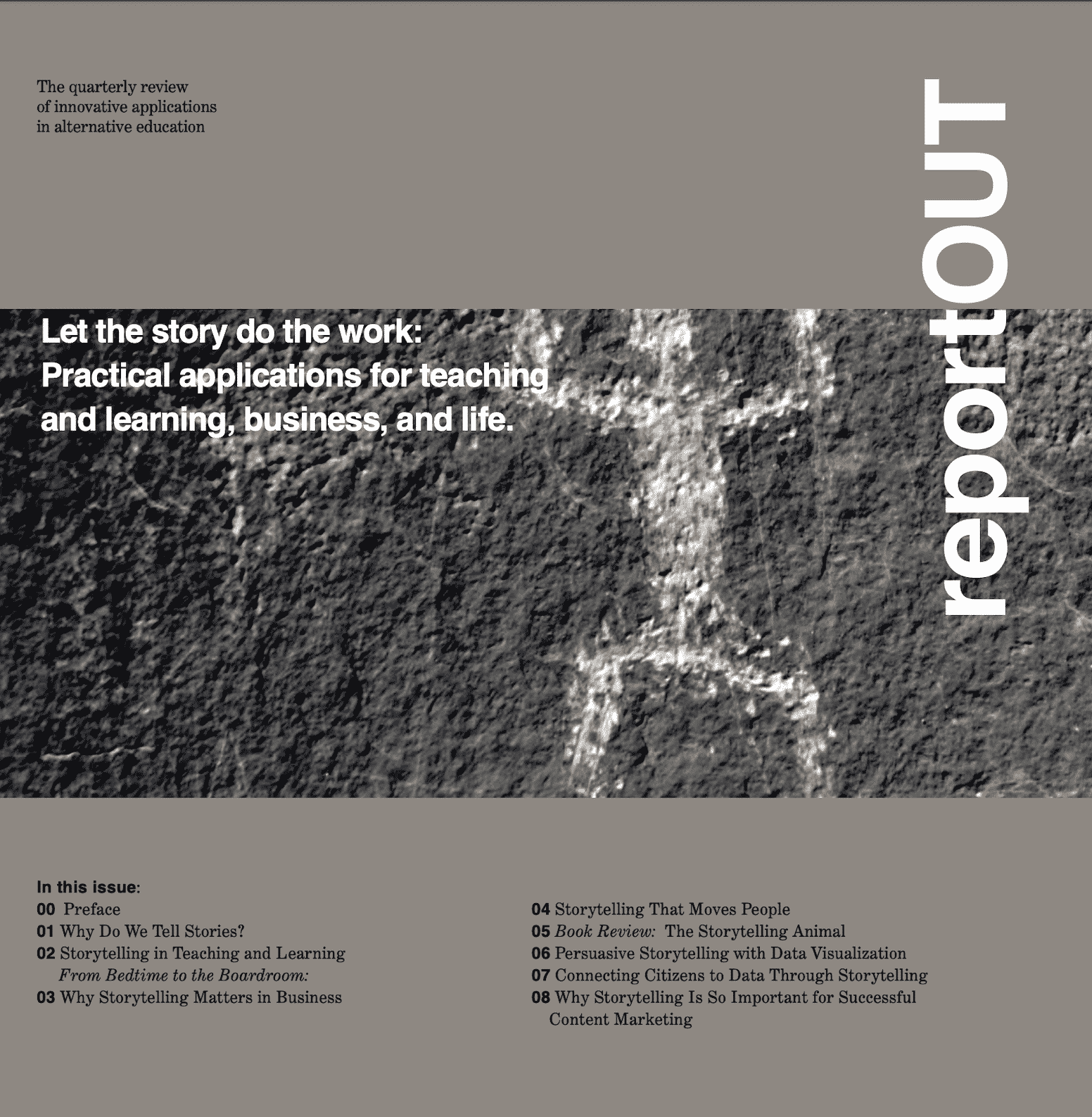 Version
Download

5

File Size

6.50 MB

File Count

5

Create Date

July 23, 2020

Last Updated

August 10, 2020
ReportOUT Volume #4
And who DOESN'T love a good story? From 15,000-year-old cave paintings, to the Bible, to the narrative of the first Thanksgiving, story is the backbone of who we are and what we aspire to be.
Ironic. In fact, more than ironic. One of the oldest forms of communication that has been discovered is now the latest buzz in the Boardroom embracing marketing and business communications.
Stories are ubiquitous and can be found in all the obvious places like movies, songs, books, paintings, journalism and photographs. Once we learn to identify stories with intention, we find them in surprising places, places we wouldn't ordinarily look in products, architecture, data, cars, fashion, geology, balance sheets, portfolios, landscapes, gardens, cemeteries, and our neighborhoods.
Aside from Malcolm Gladwell, the best storytellers of our times are advertising copywriters. They tell a story – sometimes a complicated one – in under 30 seconds. Conflict. Crisis. Climax and Resolution. Bang. Done. Resolution, by the way, is always about, a purchase or call to action.(See The Copy Book: How 32 of the World's Best Advertising Writers Write Their Advertising.) In fact, the essence of public relations is to "control the narrative." Storytelling is not an inherent skill; it is a learned craft. TED, which has become an international phenomenon, is the most successful storytelling format of our time.
But it doesn't stop there: Podcasts, long form journalism, the rise of non-fiction, the documentary. Indeed Hollywood, wouldn't exist without the three act narrative structure: Problem. Real problem. Solution. Joseph Campbell's 12 Stages of The Hero's Journey has served as the narrative backbone of many movies from the Wizard of OZ to Star Wars. In this issue of ReportOUT, SynED has assembled some of the most interesting articles which capture these ideas – especially in their most pragmatic forms. These stories intend to build business relationships, attract attention, affect behaviors, connect emotionally, and make the abstract concrete. These articles aim to reflect how storytelling has been elevated to become a tool used with intention and deliberation. For an educator, storytelling has no bounds as to its practicality.
This issue of ReportOUT includes articles on storytelling for business, marketing, content marketing, data visualization and more. We hope you enjoy them.
Attached Files
File
ReportOUT Volume #4 - Apple Books
ReportOUT_Q42019.epub
ReportOUT Volume #4 - Kindle
ReportOUT Volume #4 - Apple Books
ReportOUT Volume #4 - PDF