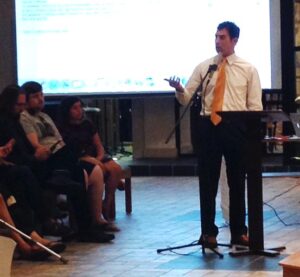 SANTA BARBARA— Assembly member Das Williams (D-Carpinteria) participated in a Healthcare Workforce Education Roundtable on Wednesday, October 8th. The roundtable discussion was hosted by SynED, which seeks to identify priorities, values and synergies of intention and technology that increase transparency and establish trusted communication between employers, jobseekers and education providers in this increasingly divergent educational ecosystem. There were key leaders representing the healthcare workforce from the state as well as Santa Barbara and Ventura Counties. The discussion explored issues and emerging technologies related to improving the connection between education and employment in the healthcare sector.
"The infusion of technology into the future workplace will need different kinds of skills than what we have been used to, in order for people to gain employment. The slow and uneven response to changing workplace demands can lead to a jobs and skills mismatch. Information technology can help bridge this by connecting the right people with the right set of skills, to the right job," said Williams.
There were presentations by Carla Casilli on Open Badging, Peter Janzow on Healthcare Enterprise Training Technology, Patrice Ryan from Cottage Hospital and Former Chair of the California Hospital Association Workforce Committee, as well as from Leslie Dubow on VA SimLEARN.
Open Badges are a digital representation of a person's earned skills. Open Badges takes the concept one step further, and allows individuals to verify their own skills, interests and achievements through credible organizations. Open Badges can help knit skills together, allowing for an easy process to verify skills, display across the web, and get recognition.
Leslie Dubow, Director of the SimLEARN Project, spoke about Simulation Learning, Education, and Research Network (SimLEARN), a program that aims to improve the quality of health care services for America's veterans through the application of simulation-based learning strategies to clinical workforce development.
The use of simulation for healthcare training and education is not new to Veterans Health Administration (VHA), it has become critical for VHA to develop integrated approach to better realize the maximum benefits of simulation for VHA staff and the Veterans they serve. The learner would train in a safe environment without adverse impact on patient outcomes, and the Veteran patient would receive improved clinical outcomes and quality care.
"The Healthcare Round Table Discussion is another example of SynED's focus on promoting synergy among different stakeholders to provide innovative solutions for employers, jobseekers and educators," said Guy Smith, Executive Director of SynED.
SynED is a catalyst for change within the educational ecosystem, a manager of new initiatives and an assurance that critical conversations occur with the right stakeholders. They listen closely to employers, students, educators, and government.