As cybersecurity education has grown in California, a new generation of cyber heroes is emerging from the pathways, competitions, and coaching that happens every day across the state. Brandon Nguyen is undoubtedly part of that group and has already had an impact on his school and his community.
Nguyen recently graduated from Oxford Academy in Cypress. While he was in school, he completed 24 college credits through Cypress College, earned three certificates and obtained six industry certifications — all before officially graduating.
He was also an active member of the school's cyber competitions team and now works as a mentor to younger students.
Nguyen said he did not enter high school intending to be so involved in cybersecurity, but things gradually built on one another as he became more involved.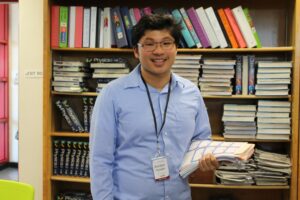 "One of my friends did CyberPatriot and said I was pretty good and should join their team, which was the only team at the school," Nguyen said. "Then a professor asked me to start taking college classes over the summer. I followed along the pathway and, over time, I just kept taking more classes."
That professor, Ben Izadi of Cypress College, said Nguyen was one of the top students he's had and someone who was not afraid of taking chances and pursuing new challenges.
"He has set goals and is committed and focused on achieving those goals. I found Brandon to be a responsible and dedicated student who goes above and beyond the 'call of duty' to complete tasks in a timely manner," Izadi said. "He can process information intellectually by applying problem-solving knowledge to new situations."
Izadi calls Nguyen the "symbol of success" for Cypress College's PACE (Pathway to Advancement of Cybersecurity Education) program aimed at developing cybersecurity pathways from middle school to four-year college.
Izadi invited Nguyen to present at the WASTC Winter ICT Educators' Conference earlier this year. He was also recognized at the CompTIA Partners Summit in Las Vegas over the summer for his success in completing professional certifications while in high school.
Not only does Nguyen have a grasp on the technical skills needed to be successful in cybersecurity, he's also developed the interpersonal skills that are essential for a good cyber coach. Nguyen mentors high school students as part of the Sunburst Youth Academy National
Guard Youth Challenge Program, which connects at-risk high school students with cybersecurity education.
"Cybersecurity builds critical thinking skills. I've learned that it's not just computers that can get compromised; sometimes the weakest thing is humans," Nguyen said. "You need to know how to train people to make sure hackers don't call them and force them to do things like give them their passwords. That mindset is important."