It's impossible to miss the energy and passion that Brent Wedge brings to cybersecurity education. Over the past two years, he's built a program from scratch and created a network of teachers and coaches who are ready to take the program to the next level. 
Wedge is the coordinator of the cybersecurity program at Modesto Junior College but spent the bulk of his career as a systems analyst at the Stanislaus Union School District. This experience proved to be essential for understanding the K-12 landscape in the Modesto area and where cybersecurity might fit into it.  
With support from Modesto Junior College administration and the California Community College Information Communication Technologies and Digital Media sector, Wedge and faculty colleague John Zamora started a CyberPatriot team at Enochs High School.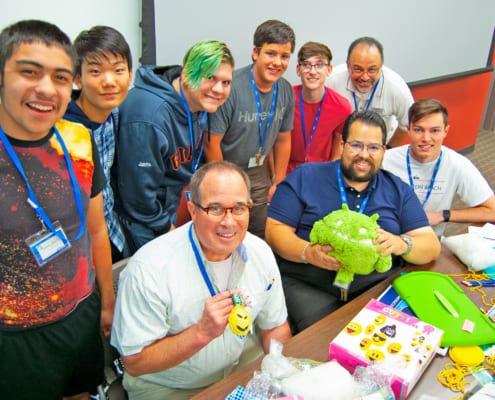 Unlike the Bay Area or other parts of the state, technology is not always top of mind for everyone in the Central Valley. Wedge used his experience in the school district to make a case for cybersecurity. 
"I want students to arrive at MJC already having done cyber in their high school and already be familiar with it," he said. "We initiated a dialogue with administrators at Modesto City Schools and then went to the schools to help them get started." 
After launching a successful CyberPatriot team, Wedge held the Central Valley's first cyber camp over the summer and created an advisory board to build industry connections.  
Wedge looked to Irvin Lemus, CIS department chair at Cabrillo College, and an integral part of Bay Area cyber education, as a mentor and role model for how to successfully implement cyber programs across K-12 and community colleges. 
"It is always a pleasure to work with Brent; his passion and excitement to bring cybersecurity to his community are enormous," Lemus said. "I know his efforts embody a cyber hero as his community will benefit from his efforts." 
He also received guidance from Tobi West, the CIS department chair at Coastline College. West immediately recognized his dedication to cybersecurity education and the potential for him to do great things in the Central Valley. 
"Brent has been working diligently on building their cybersecurity program in preparation for the Center of Academic Excellence application," West said. "This effort demonstrates Brent's commitment to making cybersecurity education available for the community and helping to develop the future cybersecurity workforce."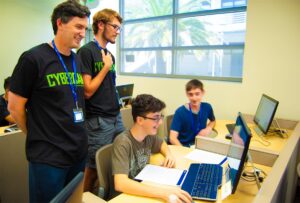 Luke LeCain, a senior at Enochs High School, was part of Wedge's first CyberPatriot team, which won the California Mayors Cyber Cup at Fresno City College last year. LeCain attended Modesto Junior College's first cyber camp last summer and is now taking community college courses in high school. 
"Luke is a natural-born leader who is out promoting cyber competitions," Wedge said. "He was a great student, but he needed a pathway. Once we defined that pathway, he ran after it."  
Under Wedge's direction, LeCain looks forward to achieving even greater success this year. 
"CyberPatriot gave me a way to learn new skills, develop skills I already had and see how I stack up against the rest of the U.S.," LeCain said. "This year, I would like both of my teams to compete at the platinum level, and at least one of my teams go to regionals." 
Moving forward, Wedge hopes to expand on the momentum he built by strengthening connections to industry through his advisory board, and to four-year colleges like Cal Poly Pomona and CSU Sacramento. 
Students need to go even further than our college. We are part of the journey but not the final destination." Wedge said. "I want to give them a boost of encouragement and be prepared for university transfer."