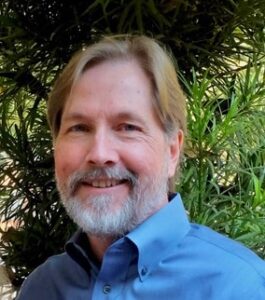 Shawn Monsen never imagined that getting laid off from HP in 2007 would turn out to be one of the best things that happened in his career. He made a career change into teaching cybersecurity and IT networking at Sierra College and found what he describes as his true calling.
Over the past decade, Monsen has become an inspiring teacher and a leader in California's cybersecurity education efforts. He is a full-time professor at Sierra College, a position he assumed in 2018 after working part-time for several different colleges.
He likens teaching to parenting — you don't know anything at first and, as a result, tend to be overly strict. Over time, you loosen up and feel more comfortable.
"Instead of focusing on everything, including the things that don't matter, you learn to focus on the important stuff," Monsen said. "What I've found is that the important stuff is establishing relationships, creating rapport and trust with students."
Monsen is a firm believer in "cradle to grave" education and is involved with efforts throughout the region to build cybersecurity pathways for middle and high school students. He coaches cyber competition teams and helps organize cyber summer camps at Sierra College.
"One of the very first things I started doing at Sierra College was start coaching summer cyber camps," Monsen said. "The pathway starts with camps, outreach, and programs like dual enrollment with middle/high school, then progresses to programs at two-year colleges, then articulation agreements with four-year colleges and into the workforce with high-paying jobs."
Outside of teaching, Monsen led the process for achieving Center of Academic Excellence designation from the National Security Agency. This designation brings industry recognition and credibility to Sierra's cybersecurity program, and to the students who graduate from the program. Sierra is only one of five community colleges in California with this designation
Monsen has also taken the lead on creating the IT Technician pathway and creating articulation agreements between community and four-year colleges. He sees this work as an opportunity to make an impact that extends beyond Sierra College.
"The work I'm doing for the Chancellor's office allows me to impact a lot more students on a statewide basis," he said.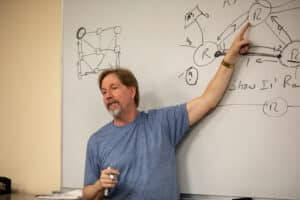 Monsen hopes to apply the success he had with articulation agreements to create a statewide model for apprenticeships and work programs. He sees these opportunities as critical pieces of the cybersecurity education pathway.
Markus Geissler, regional director for Information Communication Technology and Digital Media in Greater Sacramento, worked with Monsen on CAE designation at Sierra College and articulation agreements in the region. He said Monsen's work to advance cybersecurity education across California has undoubtedly earned him the Cyber Hero designation.
"While just achieving the CAE designation makes him somewhat of a Cyber Hero, the whole of what he does for the ICT/DM sector in the area of Cybersecurity certainly has earned him that title," Geissler said.
Though he's had a wide-ranging career, Monsen does not plan to stop any time soon. He recently received an offer to go back to the corporate world but turned it down because he's found his place in the classroom.
"When I'm in the classroom, there isn't any place else I would rather be," he said. "At this stage in my life, it's more important to make a difference than it is to make money. I'm so grateful that I got laid off because it opened the door to more rewarding, fulfilling opportunities."